Mantak Chia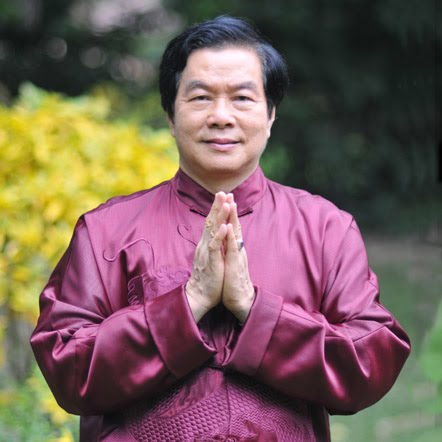 Master Mantak Chia is the creator of the Healing Tao, Tao Yoga, Universal Healing Tao System and the director of the Universal Healing Tao Center and Tao Garden Health Spa & Resort in the beautiful northern countryside of Chiang Mai, Thailand.
Since childhood, he has been studying the Taoist approach to life. Master Chia's mastery of this ancient knowledge enhanced by his study of other disciplines has resulted in the development of the Healing Tao & Universal Healing Tao System which is now being taught throughout the world.
Master Mantak Chia Biography
Master Mantak Chia was born in Thailand to Chinese parents in 1944. While still a grammar school student he learned traditional Thai boxing. He was then taught Tai Chi Chuan by Master Lu, who soon introduced him to Aikido, Yoga and broader levels of Tai Chi. It was Master Yi Eng who authorized Master Chia to teach and heal. Master Cheng Yao-Lun's system combined Thai boxing and Kung Fu. Mantak Chia also studied at this time with Master Pan Yu whose system combined Taoist, Buddhist and Zen teachings. Master Pan Yu also taught him about the exchange of Yin and Yang power between men and women and how to develop the Steel Body.
 
To understand the mechanisms behind healing energy better, Master Chia studied Western anatomy and medical science for two years. Using his knowledge of Taoism combined with the other disciplines, Master Mantak Chia began teaching the Universal Healing Tao System. He eventually trained other instructors to communicate this knowledge and he established the Natural Healing Center in Thailand. For instructors around the world, please visit www.universal-tao.com
During his years in America, Mantak Chia continued his studies in the Wu System of Tai Chi with Edward Yee in New York. Since then, Master Chia has taught tens of thousands of students throughout the world. Living Tao Centers, Chi Nei Tsang Institutes, Cosmic Healing Forums and Immortal Tao Mountain Sanctuaries have opened in many location in North America, South America, Europe, Asia, Africa and Australia.
Master Mantak Chia estimates that it will take forty-five books to convey the full Universal Tao System. In June 1990 Master Chia was honored by the International Congress of Chinese Medicine and Qi Gong (Chi Kung), who named him the Qi Gong Master of the Year.
In 1994 Mantak Chia moved back to Thailand, where he began construction of Tao Garden and the Universal Healing Tao Center fifteen miles outside of Chiang Mai.
In December 2000, the Tao Garden Health Resort and Universal Tao Training Center was completed with Meditation Halls, two open air Simple Chi Kung Pavillion, indoor Tai Chi, Tao Yin and Chi Nei Tsang Hall, Tai Chi Natural, Swimming Pool, Pakua Integrative Medical Clinic Center, World Class Weight Lifting and eight complete Ball Court Recreational Facilities.
In February 2002, the Immortal Tao practices were held at Tao Garden for the first time using Dark Room technology creating a complete environment for higher level Taoist practice
In September 2003 Master Chia opened the Tao Garden Holistic Medical Spa using Western and Eastern Technology with Traditional Thai Massage, India Aveda Therapies and Chinese Chi Nei Tsang Massage. The Spa is supervised by trained and certificated Medical Doctors, MDs with Holistic Degrees providing Colonic Therapy, Stem Cell Cancer Prevention and Natural Cancer Cure Treatments.
In March 2004 the Complete Holistic Mind, Body and Spirit Training was introduce at Tao Garden.
In July 2009 Master Mantak Chia introduced the Five Star Eight Forces Detox Spa with Saunas, Therapy Color Heated Pool, Jacuzzi, and Internal Massage Treatments. This was also introduced with Raw Food and Fasting Program with Organic Juice Bar.
In September 2010 the Universal Healing Tao Instructors celebrated thirty years of Master Chia's teaching with the Tao Congress at Tao Garden having over 100 instructors present for the celebration
No se olvide de oler las orquídeas ...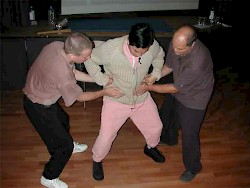 Maestro Mantak Chia nació en 1944 en Tailandia, el hijo de padres chinos. A la edad de 6 años, su educación se inició a los monjes budistas en meditación. Recibió su entrenamiento formal en Hong Kong, donde fue presentado por varios maestros de Tai Chi Chuan, Aikido y Kundalini Yoga. Más tarde, viajó por todo el sudeste asiático y aprendió de taoístas y budistas maestros técnicas secretas de Shaolin, así como hacer frente a la fuerza interna.
Sin embargo, su principal maestro fue el maestro taoísta Yi Eng quien lo autorizó para enseñar la teoría taoísta de la energía.

Él es el fundador del Sistema de Sanación Tao Universal. Viejo conocimiento secreto se hizo accesible al Oeste por primera vez por él. Más de un millar de profesores capacitados le enseñan hoy en todo el mundo Tao universal. Después de veinte años en el Mantak Chia West vive desde 1994 en Tailandia, donde se ha creado un seminario y centro de salud único, el "Tao Garden" cerca de Chiang Mai. Los diversos aspectos de la Tao se implementan en un alto nivel de calidad en el sitio de 80.000 m². La alimentación saludable de acuerdo con la teoría de los cinco elementos chinos es un requisito previo y se logra mediante el uso de puntos de alimentos cultivados orgánica. La purificación de acompañamiento de cuerpo y alma es amplificada por una variedad de ejercicios físicos y técnicas de masaje específicas. La Clínica Garden Tao presenta con los médicos chinos y varios métodos de purificación y de la convalecencia la parte médica de este maravilloso lugar disponible.
Su enseñanza es ahora conocido en todo el mundo y se está convirtiendo cada vez más popular.

Desde 1985, el Tao Maestro enseña regularmente en Alemania y es uno de los profesores más exitosos. El por lo publican 223 libros y escritos fueron publicados en 54 editoriales de todo el mundo.
"La seriedad es la más alta forma de amor"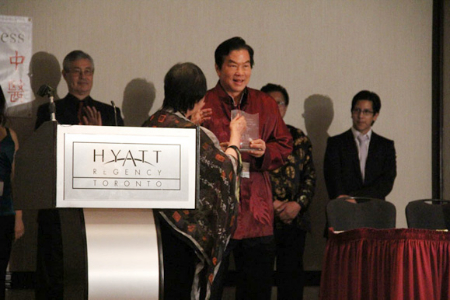 En el 14 º Congreso Mundial de Qigong y la medicina tradicional china en mayo en Toronto, Canadá, Mantak Chia fue elegido Maestro de Qigong del Año 2012.
Gran Maestro Chia fue uno de los 21 grandes maestros mayores, maestros e investigadores de renombre mundial de seis países que arbitró en el congreso. Esto hizo que el Congreso en 2012 para uno de los eventos más importantes del mundo para el Qigong y Medicina Tradicional China este año.